Not Quite the Item We Were Looking For
Conceptualised and written by Shamik Dasgupta, illustrated by Zohaib A Momin and designed & lettered by Neha and Pankaj Naik, Item Dhamaka puts up quite a show of divine beings, ample breasts and peeping thongs.
A bizarre adventure of an exiled Apsara and her friend, an exiled Asura, Aayumi Productions' Item Dhamaka – Godsmack introduces us to the divine trying to find a place of their own on our tiny little planet. Now known as 'Item' for her immense popularity at a sleazy Mumbai dance bar – the Bewafa Bar – the story of Urvashi the Apsara is a rather unfortunate one. Irked by Indra's inefficiency as the divine ruler of the heavens, Urvashi's misfortune began when she hurled insults at him at his court, angering him enough to banish her to survive in the realm of man without any magic or superpowers to come to her aid. After teaming up with the nerdy Asura Prahlad, who is now known as Dhamaka Singh – the bouncer of the club, they fight evil and investigate a strange new drug called Godsmack that is doing the rounds of Mumbai.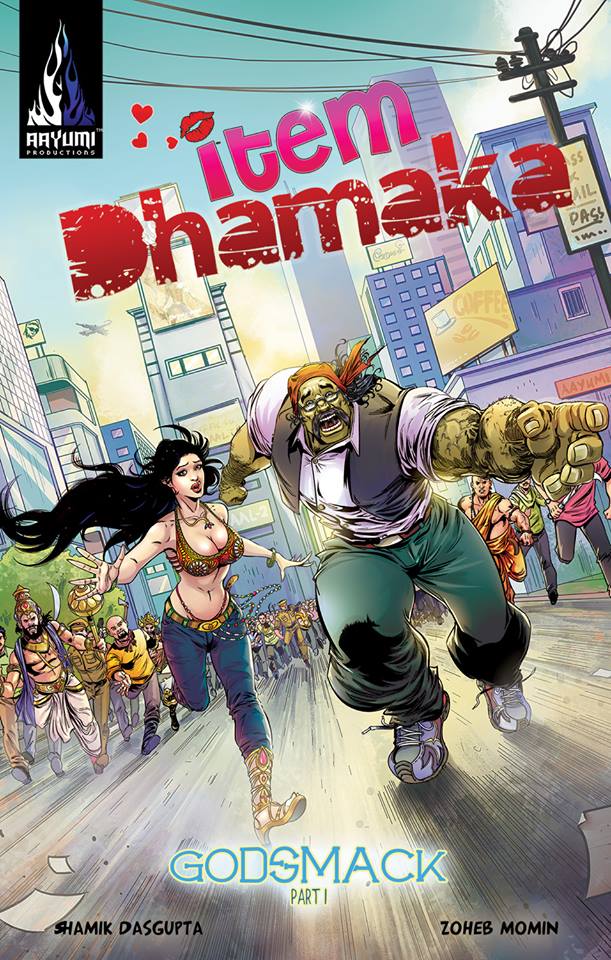 Seems like an interesting read. Does it not? But while the story thankfully breaks away from retellings of mythical fables, it manages to come across as horribly sexist in its portrayal of the protagonist – Urvashi. At the very beginning of the comic, she is introduced to the reader as the chief attraction of a dance bar. It then goes on to call her extremely dyslexic and intellectually bankrupt, it also states that discussing her weight is impolite and there is no "shaq" (Hindi for doubt) about her 36-24-36 vital stats. To be honest, given the bounteous show of breasts and teasing thongs, Urvashi appears to be a younger, more adventurous and a 'Safe For Work' version of Savita Bhabhi – with innuendo laden jokes and quips filling up the text boxes. And yes, sidekick Dhamaka Singh has not been left off the hook either. With "dark" complexion that is not "negroid" and a "greenish black", he also boasts of "freaky demon eyes". So great is Dhamaka's size and ugliness, that he is actually unable to get any job apart from that of a bouncer in the realm of mortals – even though his IQ can make Einstein look like George W Bush.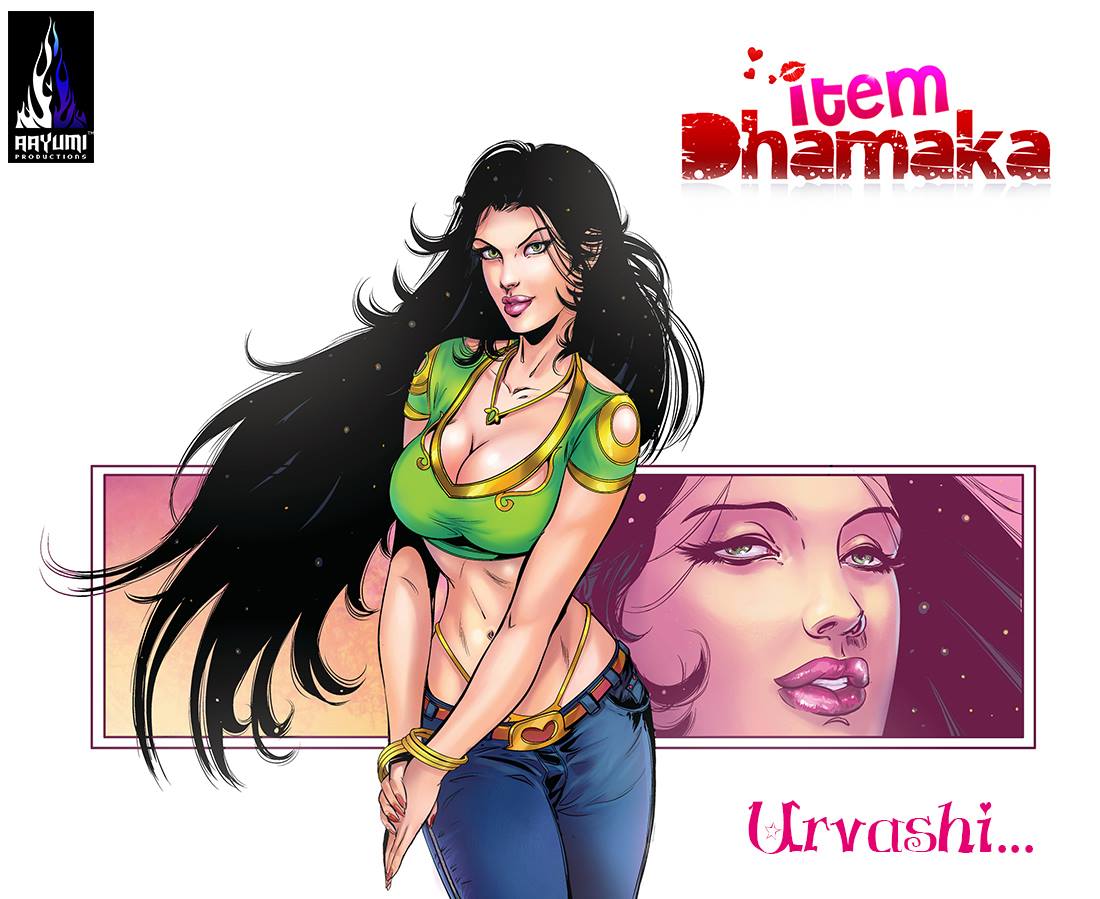 In a realm where creators are finally taking steps to introduce female protagonists in the light of body diversity, Aayumi Productions' Item Dhamaka seems to have taken a step back into the past – towards a world of female comic characters that were essentially defined by their scanty spandex-clad sexy bodies, breasts heaving across panels. But of course, Pankaj Naik, co-founder of Aayumi as well as the designer and letterer of the series has a comeback for us. "We are in India and honestly we are in a serious dearth of sexy female protagonists with a mind of their own in our comics here," he begins.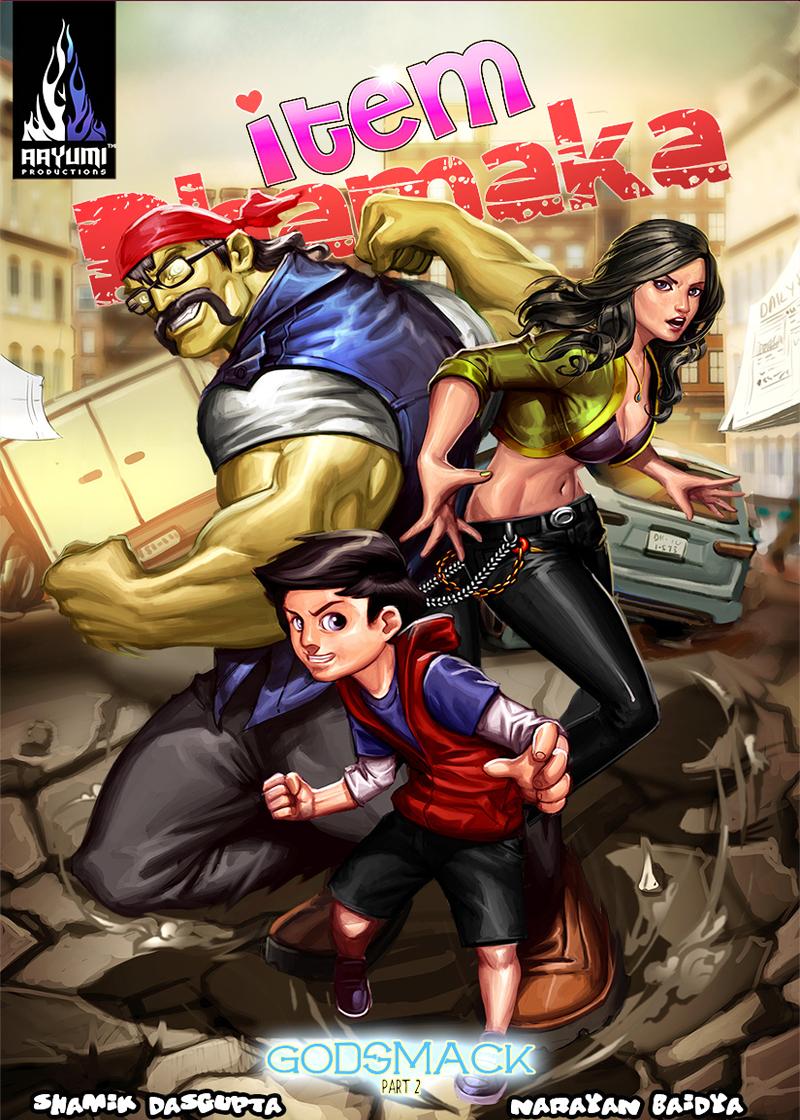 "Either we have the classic demure mythological deities in Amar Chitra Katha, or badly drawn female superheroes with tacky costumes," he goes on to say, entirely overlooking the existence of impressive female protagonists like Angry Maushi, Devi Chaudhurani and Kari. "Our idea was to have our own spin on some of the mythological characters and bring them to a pseudo realistic environment of present India. Make it more fun and exciting. Also Item or Urvashi is supposed to be an Apsara, one of the divine courtesans, how else are we supposed to portray her?"
At the end of the book, you realise that Item Dhamaka is not the book you would want to pick up if you are hoping to see the evolution of Indian comics beyond mythological influence or unrealistic depiction of women. However, it is perfect if you are a teenage boy engulfed in throes of hormonal surges. Then again, why would you – if you have an internet connection?