Nowhere Man
In a world where the millenials have trouble recognizing Sir Paul McCartney, when a graphic novel about a man who managed The Beatles wins an Eisner Award, you know that there is hope for the rock 'n' roll soul. 
While we all are familiar with the stories of John, Paul, George and Ringo, little is known about the man who discovered them in a nightclub 1961. Little do people know that while major record companies were rejecting their attempts, one Brain Epstein was refusing to give up on them. And little do people know that Epstein, who had no management experience was solely responsible for making The Beatles one of the most iconic bands in the history of music.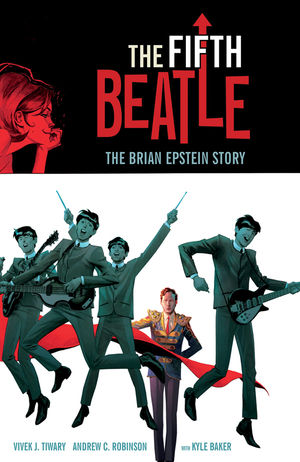 Born in 1934, Brian Epstein, known for his talent at managing musicians who created history has quite a story of his own. No stranger to controversies, this young Jewish man was revealed to be a homosexual shortly after his death in 1967. Fondly referred to as the Fifth Beatle by the band members, Vivek Tiwary's graphic novel, The Fifth Beatle is not like other graphic novels that put the rockstars in the forefront. It focuses on the relatively unknown man who lurked in the shadows, planning one great big performance known as The Beatles – one that people would remember for years.
Inspired by the Epstein adventure almost 21 years ago when Tiwary was a student in search of motivation, he finally decided to start work on his idea six odd years ago. With two years spent on perfecting the script and four more spent on the illustrations, the result was a book that managed to not just impress everyone, but win an Eisner Award for Best Reality-Based work too in July 2014. The most prestigious award of the comic world.  And that wasn't all. This graphic novel also won two Harvey Awards for "Best Graphic Album – Original" and "Best Biographical, Historical, or Journalistic Presentation" among many more.
The story of a young man in Liverpool, the graphic novel introduces us to him in a record shop, aiding a girl who has come in to buy a copy of "My Bonnie" by The Beatles. Intrigued by her request for music by a band who was known for backing singer Tony Sheridan, the then 26 year old Epstein decides to find out more about this band without realising what an epic journey he is embarking on. With every bit of his untold story captured in vivid detail, Tiwary makes us realise the true genius of this man – devoid of all the fanfare and confetti that comes with managing a band so successful. Tiwary makes us realise how lonely someone can be even during moments of euphoria and how easy it is to spiral into an abyss defined by sorrow, pills and unfathomable darkness. But the uninitiated must never believe that Tiwary enunciates a tragedy, what he does is introduce us to a regular misfit, his struggles, his tears and his smiles.
Though Tiwary did create a graphic novel that will stand the test of time, his journey was not an easy one. "When I started researching, there were no online resources I could turn to. So when I decided to learn more about the man who wrote and rewrote the history of music, I had to read 300 page long books about The Beatles to find maybe 15 pages about Epstein. I had to call up his acquaintances and go meet them, explain what I was doing and conduct personal interviews with them. Discovering things about this young man who was gay and Jewish, managing a very successful band really moved me," he says. "It wasn't the stories about him and The Beatles that struck a chord with me. It were the stories about Epstein's human side that did. Sure, a lot of his friends and family took years to open up to me. But when they finally did, it was overwhelming."
Illustrated mostly by the very Andrew Robinson known for his distinct painting style; cartoonist Kyle Baker also illustrates a few pages, taking readers back to the past- to the glory days of the 70s when the psychedelic Beatles cartoons thrived. And though the process of such an epic collaboration might sound tricky in the realm of comics, Tiwary confesses that it indeed did work out fine for him. "Once the artists had read the script, they would send pencil sketches of the pages to me. And I think I was incredibly lucky because 9 out of 10 times, their execution was perfect. If I did have any ideas or thoughts to share, I would find photo references of the clothes, the architecture and the cars of the time to help them. After that, they would share the incomplete coloured version of the pages and we'd exchange notes. It was a great creative collaboration."
With The Fifth Beatle all set to be turned into a film, it is quite surprising to learn that the surviving members of The Beatles and Yoko Ono have actually given the filmmakers permission to use original Beatles songs in their soundtrack. And that's not all. Sir Paul McCartney, who is quite the comics enthusiast, wrote Tiwary a letter thanking him for making the very first graphic novel on the man who shaped the band – Brain Epstein.
– by Solo
Writer, photo-taker, comic book lover, procrastinator. She is the quintessential cat lady who isn't your regular breed of sane.