Tiny Comix to Steal Your Heart
Bite sized comics that are sure to steal your heart, Studio Kokaachi's Matchbox Comix are one of the best offerings in the realm of independent comics in India.
Inspired by the fictional monster from the world of children's folklore, Prateek & Tina Thomas founded a publishing house-cum-storytelling studio to explore the nuances of graphic storytelling. Starting with comics and ending with even movies, Studio Kokaachi's best project so far is definitely their bite-sized comics christened Matchbox Comix.
And the idea behind it? "The Matchbox Comix was Tina's brainwave," begins Prateek Thomas. "While at Manta Ray, we'd launched the second volume of Mixtape at Cafe Papaya in Kochi. It was a special event for Papaya and for us, this was the first time we were doing an event in our hometown. We'd already decided to an exhibition of our work in The Small Picture and our comics, but we wanted to bring an interactive element to the launch too."
At the event, Tina decided to ask individual guests for a word which would then be made into a short, tiny comic and put into a matchbox which would be given as a token of appreciation for all those who attended the launch. "And we were excited by the idea, but we didn't put it into action, because we were all too scared of failing… what if we weren't able to come up with a story in time! A few weeks after the launch, Tina revisited that idea and that became the Matchbox Comix!"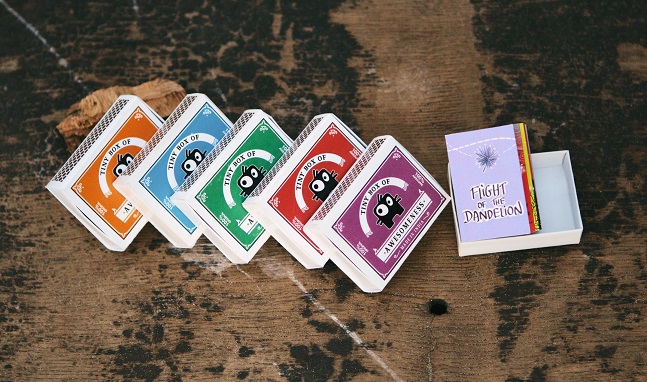 With one of the stories being a result of a practice challenge Tina and Prateek did in preparation for the live-comic idea, they decided to stick to picking a word and giving themselves 10 minutes to come up with a story. After Tina chose the word "sunrise", they had "The End of the World" the story to be featured in one of the six colourful matchboxes- ready! Following that, "We reached out to friends of ours who we knew were good storytellers… we shared the idea of the stories inside matchboxes, and also gave a loose brief which said that the stories needed to be simple, short and fun/ humorous/ quirky… something that brought a smile to the reader's mind."
The other five matchboxes hold some wonderful tales waiting to be discovered as well. In the Red Matchbox, we find the Flight of the Dandelion. Created by designer, cartoonist Manoj A Menon, this dedication to his son is a fantastical story is about a dandelion's flight across lands of wondrous sights.
The Green Matchbox features artist Mathew Jacob's Picked – a tale of misadventures as a dashing hero sets out to serenade the love of his life.
Kishore Mohan, Roshan K. & Merryn John come together to Create This is Going to Kill Me for the Blue Matchbox- a story about young a boy with vivid imagination who grows up to become a young man with an even wilder imagination!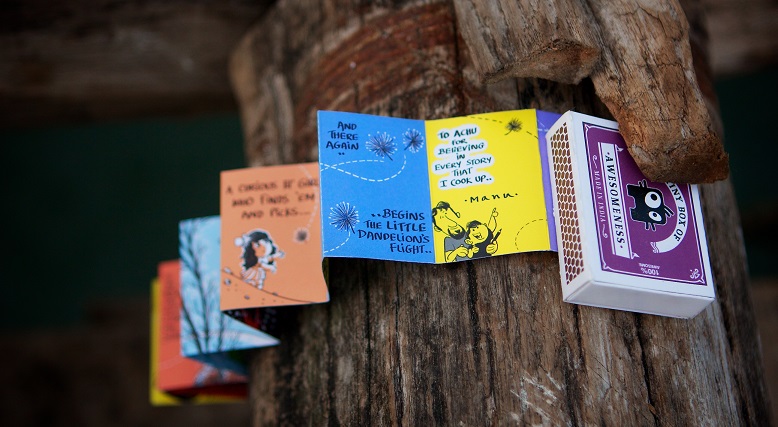 The Purple Matchbox, a personal favourite, tells us the story of a cement boy who meets the love of his life. Titled Of Love and Concrete, C.G. Salamander & Sandhya Prabhat bring this adorable comic to life.
Written by Tina Thomas and illustrated by Vishnu M Nair, the Orange holds an awesome tale titled The End of the World which is simply about the end of the world!
And finally, the gray matchbox traces the adventures of a young boy who goes in search of the elusive monster. Created by Pratheek Thomas, Sahitya Rani & Prabha Mallya, There's No Such Thing Called a Kokaachi talks of the legend that inspired the name of the Studio.
In a country where independent comic publishing houses are blossoming a dime a dozen, the work produced makes a fan realise that there are not many stories these creators have to share apart from those inspired by the age old mythical tales that have been done to death. And Prateek agrees. "Comic Con has grown bigger and expanded to more cities, but the number of comics being made in India hasn't grown along with that. We're still happy to retell mythologies and find newer ways to tell the same old stories… which is a let down. We'd hoped to see more creators self-publish comics, put out mini comics… tell original stories… but it doesn't seem to be happening."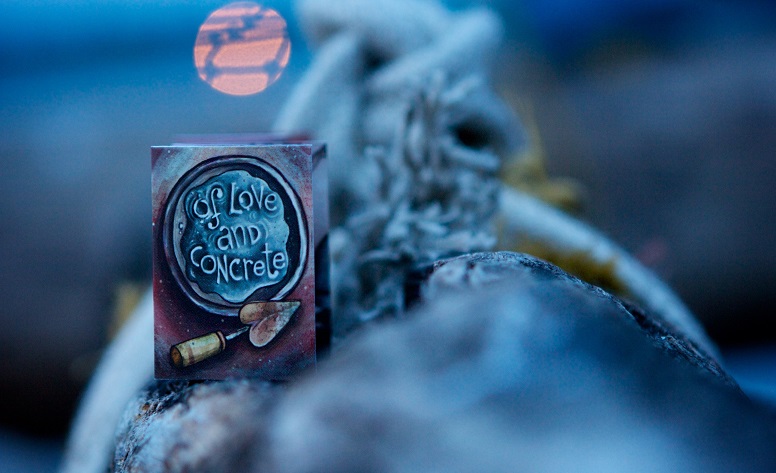 But even amidst the heartbreak of not having enough original stories to read, there are independent creators like Level 10 Publishing (known for Odayan), Syenagiri (known for The Hyderabad Graphic Novel Project and Robots of Dharma), Appupen (known for creating the fantastical world of Halahala) and Kokaachi to keep our faith alive and keep hoping for more.